Iranian weightlifter Navab Nasir-Shalal won the second medal for the Iran's  weight-lifting team in London Olympics 2012.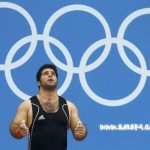 Navab Nasir-Shalal, the Iran's represenative in the 105-kilogram claimed the silver medal in London Olympics 2012.
 Nasir-Shalal lifted 184kg in the snatch, and 227 in the clean and jerk.
Iran's weight-lifting team also have two other weightlifter in the super heavyweight category. Iran's super heavyweight weightlifting prodigy Behdad Salimi  is one of Iran's hopes of gold medal in weightlifting team.