By Washington Post
LONDON — Iran had never won an Olympic gold medal in Greco-Roman wrestling until the London Games.
By the time the discipline wraps up Tuesday, the Iranians could very well be boasting about a gold for each day of the competition.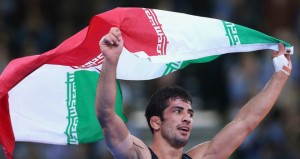 Saied Mourad Abdvali of Iran hasn't lost in nearly two years, and the 2011 world champion will be the favorite at 66 kilograms to join teammates Hamid Soryan and Omid Noroozi as gold medalists. The Iranians could end up with three golds in three days.
Greco-Roman finishes up with the 66 and 96-kilogram tournaments, and women's freestyle kicks off on Wednesday.
Abdvali appears set to meet up with 2008 Olympic champion Steeve Guenot of France in the quarterfinals. The man Abdvali beat in the 2011 worlds, Manuchar Tskhadaia of Georgia, looks to be headed to a semifinal matchup against either Tamas Lorincz of Hungary or U.S. opponent Justin Lester — arguably the best American Greco-Roman wrestler sent to London.
In 96 kilograms, world champion Elis Guri of Bulgaria and Jimmy Lidberg of Sweden are the favorites to reach the finals.
Guri finished in eighth place for Albaniaa in Beijing, but after joining up with Bulgaria he's won bronze at the European championships in 2011 and the world title in Istanbul a year ago.
But Lidberg is in good position to be just the second Swedish wrestling gold medalist since 1952.
Lidberg was second at worlds in 2009 and 2011 and won bronze in 2010.
The Russians currently lead the Greco-Roman medal standings with four — two gold, two bronze. Iran is second thanks to Soryan and Noroozi.
The Iran Project is not responsible for the content of quoted articles.