By Reuters
(Reuters) – Israel is upgrading its Arrow II ballistic missile shield in a U.S.-backed "race" against Iran, Syria and other regional enemies, a senior Israeli defense official said on Sunday.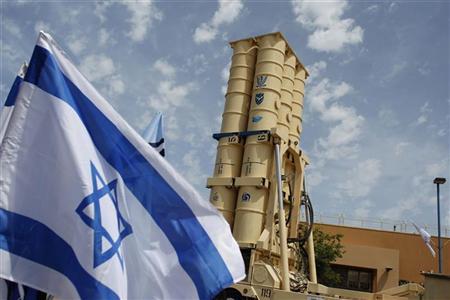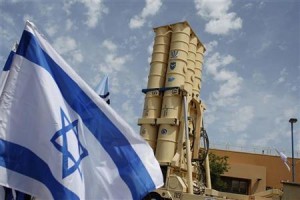 The new "Block 4" generation of guided interceptor rockets, radars and technologies for synchronizing Arrow with U.S. systems was being installed in deployed Israeli batteries, a process that would take several weeks, the official said.
"The accuracy and the reach will be greater," the official said of Arrow, which has been operational since 2000 and is designed to blow up incoming missiles at altitudes high enough for non-conventional warheads to disintegrate safely.
"It is part of the technological race in the region," added the official, who declined to be named given the sensitivity of the issue.
Long jittery about Iran's disputed nuclear program, Israel has more recently worried the Syrian insurgency could loosen Damascus's hold on its chemical weapons and Scud missiles.
Israel has threatened to attack preemptively in both countries, a prospect that could trigger wider war and clash with Washington's efforts to resolve the crises diplomatically.
The Pentagon and U.S. firm Boeing Co are partners in Arrow, an investment that the Obama administration hopes will help stay the Israelis' hand.
U.S. Secretary of Defense Leon Panetta said last week that Arrow, like a similar Israeli interceptor for short-range guerrilla rockets, Iron Dome, were "designed to prevent wars".
ALLIES
Iran, which denies seeking nuclear weapons, has vowed reprisals for any Israeli attack, and on Saturday unveiled a new missile.
Syria, for its part, last month went public with its chemical arsenal, saying it was intended for last-resort use against "external aggression".
Tehran also has Islamist guerrilla allies in Lebanon and Gaza which could shell Israel during any regional conflict. Their short-range rocket arsenals have been expanding and improving as well, the senior Israeli defense official said.
Having helped underwrite Arrow, the Americans were free to draw on its technologies for their own uses, the official said.
"The policy of the (Israeli) Ministry of Defense is to provide all data to the U.S., for the security of the U.S., including on targets, interceptors, radars and command and control," the official said.
With Congress also lavishing cash on Iron Dome, some U.S. lawmakers have called on Israel to share that system, too.
The Israeli official said that though Iron Dome was different to Arrow as it was developed entirely by Israel, the current policy was to provide the Americans data upon request while a more permanent arrangement is negotiated.
In parallel to Arrow II, Israel is developing Arrow III, which is due to be operational in 2014 or 2015. Unlike previous generations of the interceptor, Arrow III will engage incoming missiles in space, using detachable warheads that, turning into "kamikaze" satellites, will seek out and slam into the target.
Israel is also working on a more powerful rocket interceptor than Iron Dome, known as David's Sling or Magic Wand, which is due out next year. Meshed together and with U.S. counterparts, the three Israeli systems would form a multi-tier shield providing several opportunities to intercept incoming missiles.
The Iran project is not responsible for the content of quoted articles.