Negotiators from US Senate and House of Representatives agreed on a new package of sanctions targeting Iran's energy, shipping and insurance sectors.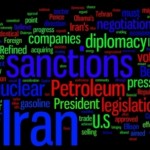 House and Senate negotiators reached agreement late Monday on legislation that builds on the current penalties. The new bill would impose sanctions on anyone who mines uranium with Iran; sells, leases or provides oil tankers to Tehran; or provides insurance to the National Iranian Tanker Co., the state-run shipping line, Fox News reported.
"This legislation updates and expands U.S. sanctions, and counters Iran's efforts to evade them" said Rep. Ileana Ros-Lehtinen, R-Fla., chairwoman of the House Foreign Affairs Committee.
The bill sends a clear message to the Iranian regime that the U.S. is committed, through the use of sanctions, to preventing Iran from crossing the nuclear threshold," she added.
Ros-Lehtinen's remarks came after Israeli Prime Minister Benjamin Netanyahu said on the last week that "all the sanctions and diplomacy so far have not set back the Iranian program by one iota."
Senate and House leaders have said they would like to pass the sanctions by the end of the week, when lawmakers are set to leave for an extended recess, Reuters said.
While, Press TV quoted an Iranian lawmaker on its today's report that "the recent sanctions imposed on Iran by the US and the European Union violated international laws as they were not passed in the UN Security Council."
Moreover, Head of Iran's Presidential Center for International Legal Affairs Majid Jafarzadeh also said on Sunday that Tehran will take legal action against the United States and Europe for imposing the sanctions on the Islamic Republic out of the framework of the Security Council.