Iranian and Syrian officials entered into agreements on energy and water supply amid Syria's crisis.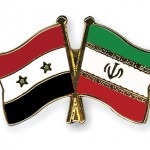 A Syrian economic delegation has been touring Iran on July 26, and signed deals with Iranian officials on electricity exports from Iran to Syria, Reuters reported.
The Islamic Republic of Iran is ready to help Syria reconstruct facilities damaged during the ongoing unrest in the Arab country, Iran's Energy Minister Majid Namjou said.
Namjou added "Iran will not leave Syria alone in such a difficult situation."
Syria has always supported Iran's Islamic establishment and the rights of the nation since the victory of the Islamic Revolution in Iran in 1979; therefore, Iran will not abandon support for Damascus under the circumstances that Western countries have united to hatch plots against the Arab country and undermine the security of Muslims in cooperation with terrorists, Press TV quoted Namjou as saying.
The Iranian minister noted that Iran has been cooperating with Syria in the fields of water and electricity and Iranian private sector companies are implementing technical, development and economic projects in the country.
Iran will export 50 megawatts of electricity to Syria via Iraq, according to one of the agreements signed, and the two countries will also cooperate in waste and water management.