Tehran was behind a terrorist attack on an Israeli tourist bus in Bulgaria that killed up to seven people at Burgas airport on Wednesday, Benjamin Netanyahu, Israel's prime minister claimed.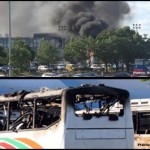 Claiming that "all the signs lead to Iran", Israel's prime minister warned on Wednesday of "retaliatory measures targeting the country," Haaretz reported.
Falsely accusing Iran to attack Israelis in Thailand, India, Georgia, Kenya, Cyprus and other places in the past few months, Benjamin Netanyahu said that this is an Iranian terror attack that is spreading throughout the entire world.
Referring to Israeli prime minister's saying that accused Iran for Bulgaria bus bomb, the Israeli News source, Haaretz said that the attack in Bulgaria is a failure for Israeli intelligence and Netanyahu is just trying to turn the Israeli intelligence failure to prevent the deadly attack into an excuse to condemn Iran and strike the country.
It had already been the case that the Israeli government was informed of the attacks on its nationals in other countries but has not prevented them to condemn Iran.
U.S. President Barack Obama also condemned the attack, calling it "completely outrageous," Telegraph reported.
While, Bulgaria's interior minister said on Thursday that based on the results of the preliminary researches, the suspected attacker on the Bulgaria bus carrying Israeli tourists was holding a driver's license issued in the United States.
But, some of the News agencies around the world just briefly mentioned Bulgaria's interior minister's saying about the suspected attacker, and focused on Netanyahu claims of Tehran's links to Bulgaria blast.
Iran's state TV is rejecting accusations of Tehran's involvement in the bomb attack on Israeli bus in Bulgaria, calling the claims by Israeli Prime Minister Benjamin Netanyahu and others "ridiculous" and "sensational."
It also described the Israeli charges as attempts to discredit Iran.