Iranian president Mahmoud Ahmadinejad affirmed that Police should teach young people to choose themselves rather than closing cafes and restaurants.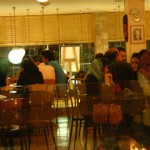 Iranian police shut down dozens of restaurants and coffee shops over the weekend for not following Islamic values, Tehran police official Alireza Mehrabi was quoted as saying.
Mehrabi said the move came as part of a plan to provide "neighborhood-oriented" security, Reuters reported.
Stressing that police should give people a choice to choose rather than closing cinemas and restaurants, President Mahmoud Ahmadinejad stated that if Islamic and Iranian custom and culture be included in our educational program, there is no need to shut down restaurants, cinemas, and cafes.
He said that if people are given the necessary training, they certainly have the right to choose and their priorities would be Iran's culture and customs.
Elsewhere in his remarks, Ahmadinejad pointed to the importance of freedom and added that "deleterious effects of imposing values are much more than their constructive effects," ISNA reported.