The first international conference on 'Women and Islamic Awakening' was held in Tehran on July 10-11 in which about 1500 female intellectuals, scholars, and activists from 80 countries have participated.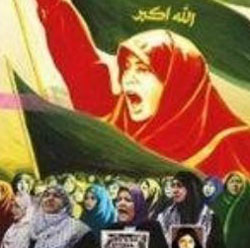 'Women and Islamic Awakening' was the fourth conference organized by the World Assembly of the Islamic Awakening since the movement began in January 2011.
The forum focused on six pivotal issues of Islamic thinking, Islamic awakening and revolutionary act, women and Islamic awakening, challenges, threats and guidelines, IRNA reported.
It also held panels on women and Islamic awakening: achievements and demands, international relations and interactions, the issue of family and capacity building among revolutionary forces.
Iran's President Mahmoud Ahmadinejad inaugurated the gathering on Tuesday (July 10), outlining the reasons for holding this conference.
Addressing the conference, President Mahmoud Ahmadinejad said that the Islamic Awakening movement in the region should be directed against the global arrogance (forces of imperialism) and the Zionist regime, Tehran times said.
Saying the world is in need of a fundamental change and political and economic systems should be reformed, Ahmadinejad stressed that the Islamic Awakening is the main condition for a great change in the current situation of the world.
Moreover, in the two-day meeting, Supreme Leader of the Islamic Revolution Ayatollah Seyed Ali Khamenei said that Iran is immune to Western sanctions over its controversial nuclear program and has been able to make technological advancements despite the punitive measures.
Ayatollah Khamenei also pointed to the West's non-stop plots against Iran all throughout the last 33 years after the victory of the Islamic Revolution, and stressed despite all animosities and such hostile moves, enemies of Islam and Iran have failed in their conspiracies.
Similarly, Secretary-general of the Assembly Ali Akbar Velayati said on Tuesday that the West has adopted biased stand on Iran's peaceful nuclear activities.
He added that the western countries try under various excuses to attain their sinister goals but the fact is that Iran is now gaining more power in the region and is determined to attain its goal before 2025.