This article was written by Jeremy Herb for the Hill blog on July 9, 2012.
A new meeting between senior European Union and Iranian officials has been scheduled later this month as the two sides struggle to find common ground in negotiations over Iran's nuclear program.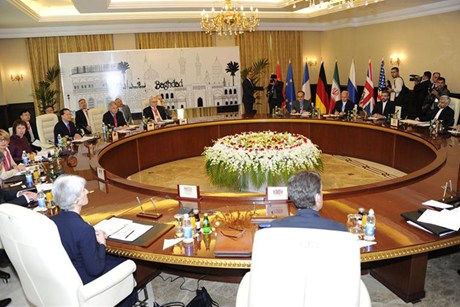 The deputies of the two chief negotiators, EU foreign policy chief Catherine Ashton and Iran's nuclear negotiator, Saeed Jalili, will meet in Istanbul on July 24, Ashton's spokesman said Monday.
The deputies, EU's Helga Schmid and Iran's Ali Bagheri, are holding the second meeting this month to discuss more technical negotiations about Iran's nuclear program.
Ashton is the lead negotiator for the P5+1 group, the five permanent United Nations Security Council countries plus Germany, which has held several rounds of talks with Iran this year.
Thus far the talks have not led to any substantive agreements between the six world powers and Iran. Iran insists its nuclear program is for peaceful purposes, while the West suspects Iran is seeking nuclear weapons.
The largest sticking point is Iran's 20 percent enriched uranium, which the P5+1 group wants Iran to stop producing.
Both the European Union and the United States have enacted biting sanctions against Iran this year in an effort to win concessions, including the suspension of the 20 percent enriched uranium, which is one level below weapons-grade. But Iran has refused to do so unless the sanctions were lifted first, something the EU and Washington have resisted.
Ashton's spokesman said that the objective for the July 24 meeting was to look at how "existing gaps in position could be narrowed" and how to move the process forward.
The meeting will be followed by "a contact" between Ashton and Jalili, the spokesman said.
The nuclear negotiations are viewed as the best — and possibly last — opportunity for the Obama administration to find a diplomatic solution to the Iranian nuclear dispute. Obama has said he is taking no options off the table, including military ones, to stop Iran from obtaining nuclear weapons.
At the same time, he has also lobbied Israel not to unilaterally attack Iran's nuclear program, arguing to Israeli Prime Minister Benjamin Netanyahu that the window for a diplomatic solution is still open.
The Iran Project is not responsible for the quoted articles.