Iranian Foreign Minister Ali Akbar Salehi held talks on Monday with senior Emirati officials to discuss ways of enhancing bilateral relations and matters of mutual interest.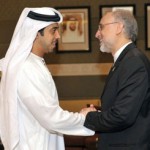 In his surprise visit to the United Arab Emirates, Ali-Akbar Salehi met and conferred with his UAE counterpart Sheikh Abdullah bin Zayed Ale-Nahyan, the host country's Prime Minister and his first deputy, respectively, in separate meetings regarding matters of mutual interests.
Salehi's visit comes amid tense relations between Iran and the UAE over three disputed islands in the Gulf — Abu Musa, the Greater Tunb and the Lesser Tunb, with each country claiming ownership of the islands, AFP reported.
According to Press TV, the three disputed islands have historically been part of Iran, the proof of which can be found and corroborated by countless historical, legal, and geographical documents in Iran and other parts of the world.
But, the UAE continues to make territorial claims against the Islamic Republic despite historical evidence and international regulations.
The UAE statesmen emphasized on Monday meeting that a balanced, peaceful approach in dealing with the issue of the three disputed islands in the Persian Gulf is essential to bolstering the future relations with Iran.