Sixty Iranian MPs have signed a plan by which the ships passing through the Strait of Hormuz should have to pay taxes, Khabar online reported.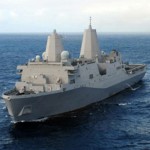 Stating that more than 60 percent of the world's oil passes through the Persian Gulf, Semnan and Mahdishahar representative in Majlis said many different countries pass through the Strait of Hormuz under various pretexts including security, inspection and handling of their bases in the Persian Gulf  so the Strait is known as a major waterway between the Persian Gulf countries and cross-regional countries.
Regarding the plan of receiving taxes of the ships crossing through the Hormuz Strait, Alireza Khosravi said some Persian Gulf states are directly involved in the Persian Gulf environment and health. We recommended in Parliament that at least those countries which hurt the Persian Gulf environment with their oil ships passing through the Strait help the Gulf to return to ideal conditions.
Khabar online quoted Khosravi as saying that the plan will benefit all countries in the world, and even cross-regional and regional countries. These taxes should be spent on construction, development and protection of the environment of coastal areas along the Strait of Hormuz, and serving the maritime transportation industry.
The Member of Parliament stated that given the problems such as pirates and the Persian Gulf insecurity, this plan could provide security in the transportation industry.
Likewise, the ships passing through the Suez Canal pay taxes to Egypt and this country provide security in return.
It is worthy to mention that implementing this plan- taking taxes from the ships passing through the Strait of Hormuz- at first could bring money to our country, and secondly the ships pass through the Strait can be fully controlled.