This article was written by Samuel Rubenfeld for the Wall Street journal blogs on July 6, 2012.
The U.S. State Department said Friday it welcomed a decision by Italian  company Edison International SpA to withdraw from Iran's energy sector.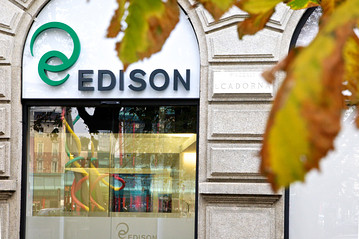 Edison withdrew from its contract to explore Iran's Dayyer natural gas field, the State Department said, and it pledged not to engage in activity with Iran in the future that is subject to U.S. sanctions.
The State Department said, as a result of the company's decision, it granted a "special rule" under the Iran Sanctions Act to Edison that says the company will not be subject to an investigation into past Iran-based activities, so long as it lives up to the assurances it gave to the U.S. government.
"We commend the commitments made by Edison International, and we hope that other firms will follow its lead," said State Department spokeswoman Victoria Nuland in a statement.
A spokesman for Edison did not immediately respond to a request for comment. More coverage of the State Department announcement is available here and here.
Edison is the sixth company, the State Department said, to withdraw its investment in Iran under the special rule provision of the Iran Sanctions Act, joining Italy's Eni SpA, Norway's Statoil ASA, France's Total SA, Japan's Inpex Corp. and Royal Dutch Shell PLC in doing so.
"These companies have recognized the risks of doing business in Iran's energy sector given Iran's proliferation activities, support for terror networks around the world, and other destabilizing actions," said Nuland.
Edison signed a deal in 2008 with National Iranian Oil Co. to explore the Dayyer offshore block, an 8,600-square-kilometer (3,320-square-mile) area in the Persian Gulf.
The U.S. and European Union over the last two weeks implemented tough sanctions against Iran that each had passed earlier this year in a bid to pressure Tehran to stop its nuclear program, which the West fears is being used to produce the capability to make a nuclear weapon. Iran denies the allegation and has repeatedly said its program is peaceful.
The Iran Project is not responsible for the content of quoted articles.