Responding the EU's oil embargo against the Islamic Republic of Iran, Iranian lawmakers have drafted a bill that would close the Strait of Hormuz for oil tankers heading to countries supporting current economic sanctions against the country, said a member of the parliament's national security and foreign policy commission.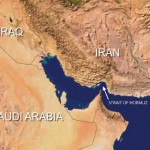 The move came Monday, a day after Europe began to enforce an oil embargo against Iran.
Ibrahim Agha Mohammadi, a member of the parliament's national security and foreign policy commission, said the bill had the support of 100 of the parliament's 290 members, and was to exercise Iran's "sovereignty of internal waters and against an unfair and cruel oil embargo," Fox news reported.
"If we completely go under the sanctions, we will not let a single oil drop pass through the Hormuz Strait," Tabnak quoted Arsalan Fathipour, head of the Iranian parliament's economic commission as saying.
Situated between the Gulf of Oman and the Persian Gulf, the Strait of Hormuz is the world's most important oil transit chokepoint, with a daily flow of 17 million barrels per day in 2011. This constitutes roughly 35 per cent of all seaborne traded oil, or 20 per cent of all oil traded worldwide.
Iran has long threatened to close the Strait of Hormuz, but after repeated threats, this is the first formal proposal of a course of action that would have severe consequences for the global economy, Telegraph said.
It also added that by drafting a bill to blockade the Strait of Hormuz, the waterway to a fifth of the world's traded oil, Iran threatened to trigger an international energy crisis across the world.