In their first reaction to EU oil embargo on Iranian oil, which was scheduled to take effect from July 1, top Tehran officials downplay the illogical embargo as just the latest punishment in decades of ineffective sanctions.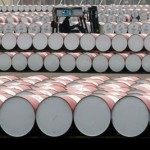 Iranian Oil Minister Rostam Qasemi said "the Islamic republic of Iran has been facing oil sanctions for several years," emphasizing that sanctions and pressures will have no effect on Iran's will towards development and progress.
The Sunday report by Press TV also quotes Iran's Minister of Economic Affairs and Finance Shamseddin Hosseini as saying sanctions against Iran have actually started a long time ago and the West is conducting a psychological operation by setting a date for imposing a new round of sanctions on Tehran.
Rostam Qasemi stated that the Islamic republic is fully ready to confront the West's sanctions on the country's oil industry, adding Iran's oil has its own markets and the Iranian government has studied all the possible options in confronting the sanctions, Xinhuanet reported.
Likewise, Mahmoud Bahmani, the governor of Iran's central bank, said on Sunday that his country will not remain passive before a new EU embargo on the country's oil sector and will confront hostile policies, noting Tehran has enough hard currency reserves to meet its import needs.
On January 23, the European Union (EU) foreign ministers approved new sanctions against Tehran and set July 1 as the time when the embargoes take effect.
The EU sanctions bar all the EU member states  from buying Iranian petrochemical products and crude oil, and insuring vessels that carry those products.