Representatives of global powers and Middle East countries gathered in Geneva on Saturday to try to find a political solution for ending the violence in Syria and settle differences over the role of President Bashar al-Assad.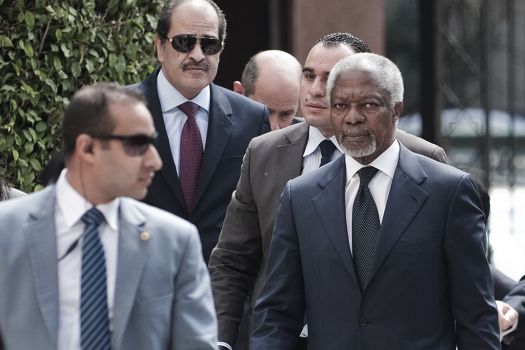 Yesterday a meeting on Syrian issue took place in Geneva, Switzerland. Members of the UN Security Council, Turkey, Iraq and Qatar participated in the meeting.
The meeting aimed at power transition in Syria. UN-Arab League envoy Kofi Annan after talks in Geneva on June 30 announced that the Syria crisis is to be resolved by a transition government consisting of the current authorities and opposition leaders.
The meeting came about only after sharp disagreement on who should attend. Conspicuously absent was Iran — a crucial ally of Mr. Assad, whose participation was blocked by the United States and its allies despite Russia insistence on engaging Iran in the efforts to resolve the Syrian crisis — as well as Saudi Arabia, a strong supporter of Syrian opposition groups, and Jordan, which borders Syria.
Russia's determination to preserve its last remaining ally in the Middle East collides head-on with U.S. and other Western powers' desire to replace Syrian President Bashar Assad with a democracy.
To find compromise with Russia, the United States backed away from its calls for the immediate resignation of President Assad but Secretary of State Hillary Clinton still said the new transition plan means Assad will have to go anyway, as the Syrian leader would hardly pass a "mutual consent test, given the blood on his hands."
On the other hand, Mr. Assad, in an interview broadcast on Iranian television this week, made clear his opposition to any arrangement brokered abroad. "We will not accept any non-Syrian, non-national model, whether it comes from big countries or friendly countries," Mr. Assad said. "No one knows how to solve Syria's problems as well as we do."
However, talks over Syria would not lead to an accord. They do nothing but providing more propaganda for militant forces opposed to Syria government. UN observers in Syria are reflecting issues that are all to the the detriment of Syria government.
Syria has been experiencing a deadly unrest since mid-March 2011 and according to the UN more than 10.000 people have already died as a result of the clashes . While the West and the Syrian opposition accuse the government of killing protesters, Damascus blames the violence on "outlaws, saboteurs and armed terrorist groups" funded and instructed from abroad.
It should be mentioned that militant forces actions are totally ignored by UN observers while they stated clearly that, "we are not willing to negotiate (with) Mr. Assad unless he leaves Syria." Besides, militant forces actions are mostly mixed with the government by the support of media hype such as Al-Arabia.
It is not easy to predict the future of Syria crisis but it is clear that Iran would not change its stance toward Syrians. As Hossein Amir-Abdollahian, who is the deputy foreign minister for Arab and African affairs, said "the conference will definitely not lead us to retreat even one iota from our stance toward the Syrian people."
He further voiced Iran's full support for any effort aimed at assisting the Syrian people within the framework of the peace plan proposed by the UN-Arab League envoy Kofi Annan.
It is necessary to know that US and Israel are not seriously willing to change the current Syria regime at present.
It seems that Bashar al-Assad regime will not change unless by the military strike, with regard to Iran's nuclear program and implementation of tougher sanctions on it and also firm stance of Supreme Leader Ayatollah Seyyed Ali Khamenei toward Syria crisis. Meanwile, military strike is unlikely to happen because it would be hard to control its range.