Russian Foreign Minister Sergey Lavrov said that no artificial deadlines and ultimatums should be issued to Iran over its nuclear program.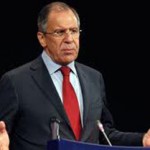 Russian FM said the latest round of talks in Moscow this week between six world powers and Iran has been "quite useful," even though there was no breakthrough, stressing that the talks must continue without "any artificial deadlines or ultimatums," Fox news reported.
No agreement was reached in Moscow concerning the nature of Iran's nuclear program, but the talks was very useful in terms of understanding the issues that should be agreed upon both technically and legally,  Sergey Lavrov said on Russia's Rossiya 24 television
Lavrov stated that before the 4th round of Iran-G5+1 talks, the negotiators agreed to hold a low-level meeting on July 3 of technical experts in Istanbul, Turkey.
Stressing that a quick settlement of the standoff over Iran's nuclear program is not realistic, he said "in order to settle the issue, it's necessary to refrain from constant threats of using force, abandon scenarios aimed against Iran, and stop dismissing the talks as failure."
Source: Washington Post