Iran and major world powers sought elusive common ground Monday in talks meant to reduce tensions over Tehran's nuclear program that both sides see as crucial to their interests.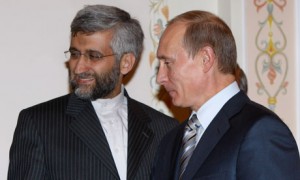 Two days of talks between Iran and 6 world powers began on Monday to try to end a decade-long stand-off over Tehran's nuclear program. The Moscow talks follow two rounds of negotiations since diplomacy resumed in April following a 15-month hiatus.
It seems that the West is willing to negotiate under the pressure of public opinion. While experts and diplomats said a breakthrough was unlikely at the meeting in Moscow.
During the last round of talks in Baghdad, both Tehran and the six world powers offered their own packages of proposals.
Iran's package included nuclear and non-nuclear topics such as regional security and the demand that the G5+1 officially recognize Iran's right to uranium enrichment.
The major powers are expected to renew demands that Iran suspend the enrichment of uranium to 20 percent fissile purity used to fuel a research reactor in Tehran which produces radioisotopes for medical purposes like cancer treatment, ship out its stockpile of this uranium, and cease operations at Fordo underground facility.
No agreement was reached. Meanwhile both sides have expressed their proposals in different ways before the beginning of Moscow talks.
In Iran, President Mahmoud Ahmadinejad said Tehran would be prepared to stop enriching uranium to a higher level – a process that could be used to make nuclear arms – if the six powers agreed to meet its needs for the fuel.
Also, Iran says the issue of 20percent enrichment will not be discussed in the new round of talks with the P5+1 in the Russian capital of Moscow if Tehran's enrichment rights are ignored and sanctions are not lifted.
Seemingly, first round of Moscow talks has ended without any positive or negative result. Yet the two sides seriously refuse to release the result of the first round of talks.
On the other side, Supreme Leader Ayatollah Ali Khamenei made the remarks during Iran and P5+1 started new round of nuclear talks in Russia. In a meeting with senior officials and Tehran-based diplomatic corps on the auspicious occasion of Mabaath, The Supreme Leader implicitly pointed that US president Barak Obama would not win a second term and he would fail in confrontation with the Islamic Republic.