In an interview with the German newspaper Frankfurter Allgemeine Zeitung, Iranian President Mahmoud Ahmadinejad said he intends to leave politics at the end of his second term in 2013.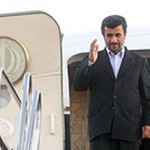 Answering the question "what will you after the second term of your presidency?" Ahmadinejad stated that he plans to return to academics after leaving politics.
He added "maybe I'll get involved politically at the university, but I'm not going to found any political party or group."
He was asked whether, like Russia's Vladimir Putin, he envisions returning to the presidency at a later date, and replied, "No, eight years are enough," Israel national news quoted Allgemeine Zeitung as reporting. 
Of course, it is unlikely that Ahmadinejad would do it.
Mr. Ahmadinejad has served as Iran's president since 2005, and served as mayor of Tehran prior to his election to the presidency.