Press TV reported, Iran's intelligence ministry has announced the capture of main elements behind the assassination of the country's nuclear scientists, Majid Shahriari, Mostafa Ahmadi Roshan and policeman Reza Qashqaei, following an investigation of at least 18 months involving surveillance in Iran and abroad. Iran claimed they were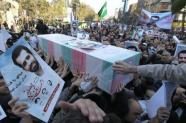 linked to Israel.
According to Fars News Agency, Iran's ambassador to the International Atomic Energy Agency in an interview with BBC, Ali Asghar Soltanieh spoke about various dimensions of Iran's nuclear program and Tehran-IAEA negotiations.
"West expects Iran to halt uranium enrichment which is considered as national pride to Iranians, in exchange for selling spare parts of civilian airliners," he added.
Soltanieh underlined that there is no evidence to prove the military nature of Iran's nuclear program. He said Iran has always been opposed to weapons of mass destruction.
Following, in the anniversary of the 2009 presidential election in Iran, Iranian pro- and anti-government in news agencies like FNA; social networks such as Facebook, Twitter and FriendFeed; and in weblogs review the events of Iran's controversial June 2009 (88) presidential election.