Ali Larijani was re-elected as interim speaker in the new principlist-dominated parliament on Monday.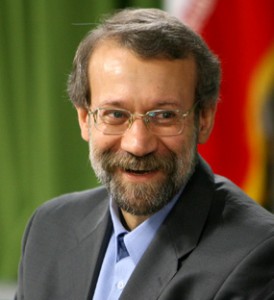 According to Tehran Times, The opening ceremony of the new Iranian parliament was held on Sunday with a message from Supreme Leader of the Islamic Revolution Ayatollah Seyyed Ali Khamenei, who called for close cooperation between the Majlis and the other branches of government.
President Ahmadinejad also delivered a speech to the parliament, in which he said that empathy is the key to the country's success.
Mehrnews said Larijani succeeded to win 173 votes out of 275 votes cast in the 290-seat parliament. Gholam-Ali Hadad Adel, the only rival to Larijani, won 100 votes.
It is the ninth parliament since the 1979 Islamic Revolution. Larijani, a lawmaker from the Qom Constituency, held the post of parliament speaker in the eighth parliament.
In the eighth parliament the competition was again between Larijani and Hadad Adel. In that competition Larijani won 237 votes.
Hadad Adel was parliament speaker in the seventh parliament. He was the chairman of the Majlis Cultural Committee in the previous parliament
The Washington Post quoted Associated Press as saying, Iran's newly-elected parliament has voted to reinstate a conservative critic of President Mahmoud Ahmadinejad as temporary speaker.
Both candidates, Ali Larijani and Haddad Adel, are close to Iran's top leader Ayatollah Ali Khamenei, but Haddad Adel supports a less confrontative approach to Ahmadinejad's administration. Conservatives who once backed the president turned against him after he was perceived to challenge Khamenei's authority last year.
Meanwhile, conservative opponents of Ahmadinejad won a majority of the seats in parliament in elections ending earlier this month.
In addition, FARS NEWS AGENCY reported, addressing the first official session of the 9th parliament and after MPs reinstated him in his post as parliament speaker, Larijani stressed that the new parliament should move vigorously to defuse enemies' plots.
He said an overall look at current developments in the region and the world as well as the status quo in Iran and the region reveal that enemies' main priority is hitting the Iranian economy.