According to France 24, Iran summoned Bahrain's ambassador in Tehran after his foreign minister told the Islamic republic to stop interfering in his nation's internal affairs, state media reported on Friday.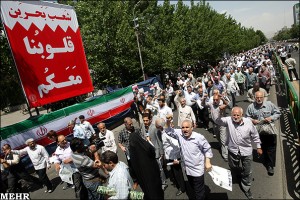 Foreign Minister Sheikh Khaled bin Ahmad al-Khalifa on Thursday warned Iran to stop meddling over a proposal for Bahrain to form a union with Saudi Arabia.
Tehran "rejects comments made by the Bahrain foreign minister and hopes that the Bahraini government finds a suitable solution towards the developments there," the reports quoted a foreign ministry official as saying.
Besides, Iranians have taken to the streets to protest against Saudi Arabia's bid for a merger with Bahrain as well as the Manama regime's brutal crackdown on anti-government protests.
The protesters in Tehran staged a rally following the Friday Prayers. They described the plan as treason against Bahraini people.
Iran says the plan is aimed at quelling the protests in Bahrain as the Al Khalifa regime is unable to stop the peaceful demonstrations in the country.
In their rallies, the Iranians also criticized Riyadh for serving the US agenda in the region by helping Manama's crackdown on anti-government protests, Press TV noted.
The Washington Post reported, president Mahmoud Ahmadinejad said Thursday that he is eager to attend the Olympic Games in London to support Iranian athletes but that Britain doesn't want to host him.
Ahmadinejad did not specify whether he has officially requested to attend the Games or say if Britain has refused him entry.
Britain's Foreign Office declined to comment on Ahmadinejad's claim, saying its policy was not to discuss individual visa cases. However, British authorities have confirmed that anyone can be stopped from entering the country — including for the Summer Games — if it is decided that their presence would be "unconducive to the public good."
The New York Times said, Incensed over what it views as a Western-Arab plot, Iran on Thursday threatened to sue Google for deleting the name Persian Gulf from its online mapping service and leaving the body of water nameless.
Iran's Foreign Ministry spokesman, Ramin Mehmanparast, was quoted by the state-run news media as saying that Iran had already warned Google of possible legal action and "serious damages" if the Persian Gulf was not identified as such.
A spokeswoman for Google said that "there's been some misunderstanding there's something new here" and that "labels have not been on this body of water for several years." The spokeswoman, who declined to be identified by name in accordance with Google's policy, said that she could not be sure precisely when the change had been made, but that "we are constantly updating the maps and improving them."