The nuclear talks between Iran and the IAEA representatives have been on track and constructive thus far, the Permanent Representative of Iran at the IAEA Ali Asghar Soltanieh said on Tuesday, the second day of discussions.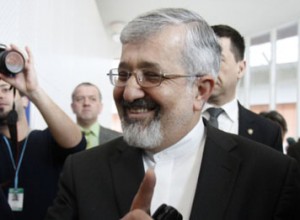 "We had good talks. Everything is on the right track. The environment is very constructive," Ali Asghar Soltanieh told reporters as he entered an Iranian diplomatic mission for talks with the Vienna-based International Atomic Energy Agency.
Iran and the International Atomic Energy Agency met at the office of the Islamic Republic's diplomatic mission to international organizations in Vienna on Monday to discuss Tehran's nuclear program. The talks are scheduled to continue today, May 15.
"The aim of our two-day meetings is to reach an agreement on an approach to resolve all outstanding issues with Iran," the IAEA deputy director general and head of the Department of Safeguards, Herman Nackaerts told reporters yesterday before the meetings began. "In particular, clarification of the possible military dimensions remains our priority."
"It is important now that we can engage on the substance of these issues and that Iran let us have access to people, documents, information, and sites," he added.
Two previous rounds of talks in Tehran this year with UN inspectors failed to make any notable progress, especially on their request to go to Parchin.
As Iran-IAEA nuclear talks are being held ahead of Baghdad talks between Iran and P5+1 group, Western diplomats are watching closely the Vienna talks for any sign that Iran is now ready to make concrete concessions.