Ahmadinejad on his 100th provincial visit to Mashhad, Khorassan Razavi prov, on May 10, made the statements, addressing a large group of local people.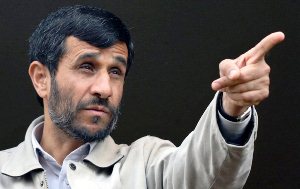 Referring to implementation of the second phase of the national targeted subsidy plan, he said the project was the start of a major economic development in the country.
Ahmadinejad has also vowed that the Iranian government would tackle economic problems such as housing, unemployment and improve the banking system through his economic reforms plan.
"Issues that you've seen in the currency and the gold market was a joint domestic and foreign conspiracy and government will deal with it firmly," he emphasized.
In the following, he added our Intelligence Services were deceived. It seems that he is still angry over appointing of Intelligence Minister.
According to Farsnews agency,  president Ahmadinejad who called the law of "supervising the behavior of MPs" against constitution, four days ago; today in a letter he applied this law to the parliament for enforcing.
Press TV noted Foreign Minister Ali Akbar Salehi  told a meeting of the Non-Aligned Movement (NAM) held in the resort city of Sharm al-Sheikh in northeastern Egypt on Wednesday "The stubborn refusal of the Zionist regime [of Israel] to join the nuclear Non-Proliferation Treaty is still the main obstacle in the way of the global implementation of this treaty."
The meeting is meant to make preparations for the 16th summit of heads of state and government of NAM, which is scheduled to be held in Tehran in late summer.
Earlier in the day, Salehi told reporters that the NAM summit, which is scheduled to be held in Tehran in late summer, is much more significant than the conferences held in the country since the victory of the Islamic Revolution of 1979.
"The holding of the conference will help elevate Iran's status in the international arena," he added, Mehr reported