Tehran's interim Friday Prayers Leader  Hojjatoleslam Kazzem Seddiqi says the West remove or ease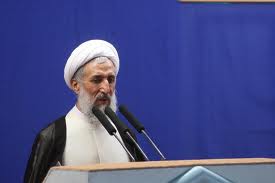 sanctions against Iran during negotiations in a bid to prove its goodwill and gain the Iranian nation's trust.
Addressing thousands of prayers at Tehran University Campus, Ayatollah Seddiqi said it would be beneficial to all if the Group 5+1 act rationally during the upcoming talks, adding Iran has shown its goodwill repeatedly,  and now it is time for 5+1 Group to show their good intention.
"Istanbul meeting proved that Iran is powerful and will never give up its rights on nuclear issue," he said.
Further, Ayatollah Seddiqi referred to some baseless claims on the Persian Gulf, saying world powers have always been trying to create chaos in the region but Iranians and all other vigilant nations of the region won't pay attention to them.
On Bahrain clashes, Ayatollah Seddiqi said despite the disregard of international organizations and regional countries, people of Bahrain demonstrated great resistance and thwarted all plots of the Bahrain regime.
Pointing to the new position of Amnesty International and United Nations Secretary General against the brutality of Bahrain regime, he emphasized that the efforts of Bahraini people will bear fruit eventually.
Besides, referring to the recent visit of Zionist officials to Azerbaijan, he recommended the officials of Azerbaijan Republic to be aware of their own nation's opposition to the Zionist regime.