Mashregh News reported, Mahmoud Ahmadinejad participated in Expediency Council meeting after 3 years. The last time he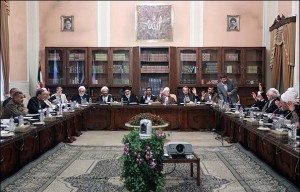 attended the Expediency Council meeting dates back to the early 2009. Ahmadinejad as a president is a permanent and legal member of Expediency Council but after the 10th presidential election he was absent from all the meetings of the council.
Shafaf quoted Nasim as saying, Ali Akbar Hashemi Rafsanjani, the head of Expediency Council, welcomed Ahmadinejad attendance in the meeting and expressed hope that he would be present continuously in expediency meetings
According to dolat.ir, by approval of the cabinet adding any words or phrase to the name or logo of Publication and News Agency is forbidden and the name of concessionaire, editor-in-charge and field of activity should be mentioned in a section entitled "about us" in each agency website.
On the other hand, a media expert told Fars News Agency about the new rules enacted in government regulation, "it is not common in any place of the world that the source of the news should be named. Media must not accept this wrong rule."