Iranian officials condemned  "baseless" claims made by the United Arab Emirates over the three Iranian islands of Abu Musa, Greater Tunb and Lesser Tunb.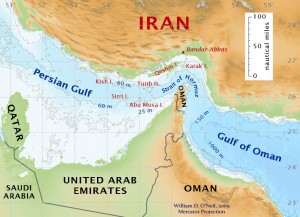 Foreign ministers from the six [Persian] Gulf Cooperation Council nations held an emergency meeting Tuesday in Qatar to discuss Ahmadinejad's visit last week to Abu Musa, one of three Persian Gulf islands claimed by Iran and by the United Arab Emirates.
The [P]GCC has criticized Ahmadinejad's visit to Abu Musa as the "violation of the sovereignty of the United Arab Emirates over its three islands." After that Iranian lawmakers issued a statement and said in which, "Iran considers its territorial integrity and sovereignty over Abu Musa, the Greater Tunb and Lesser Tunb non-negotiable," Tehran welcomes direct bilateral talks with the UAE to clear up any possible misunderstandings.
The United Arab Emirates recalled its ambassador to Tehran after the visit and canceled a soccer match between the nations. Ownership of the islands should be determined by negotiations or the International Court of Justice, it stated.
Iran took control of the islands in 1971, when Britain granted independence to its Gulf protectorates and withdrew its forces.  Since then, Iran has built facilities there, including an airport and a desalination plant.
On April 11, Ahmadinejad declared that historical documents proved "the Persian Gulf is Persian." He also said Iran's military was ready to "inflict heavy regret and shame in case of any aggression against Iranian lands and interests. "Key to lasting stability in Gulf is regional cooperation" he added.
[P]GCC warned Iran Tuesday that they stand united in an escalating dispute over strategic islands controlled by Tehran but also claimed by the United Arab Emirates.
The Iranian parliament  rejected as "baseless" claims by the United Arab Emirates to Gulf islands controlled by Iran, calling them "interference" in domestic affairs and voted to turn the Abu Musa Island into a 'model tourist resort', the Cultural Heritage, Tourism, and Handicrafts Organization (CHTHO) director announced on Tuesday.
Ramin Mehmanparast, Iran's Foreign Ministry spokesman told reporters in reaction to the latest statement by the (P)GCC, "That these islands belong to Iran is an unchanging and non-negotiable."
Iranian public considered Ahmadinejad's visit to Abu Musa as a smart move. Since all Iranians know the three Persian Gulf islands as the inseparable part of Iran, even Ahmadinejad opponents support this move.
On the other hand, the more UAE insists on baseless claims over the three Persian gulf islands, the more Ahmadinejad's position inside Iran strengths.