Iran's nuclear program was one of the main issues dominated Wednesday discussions between foreign ministers from the Group of Eight leading industrialized democracies.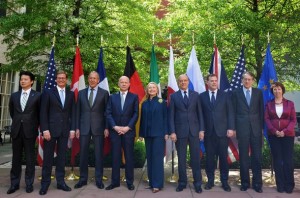 Concerning about Iran's nuclear program, United States Secretary of State Hillary Clinton, the host of meeting, stressed that it was "urgent" for the Islamic republic to use upcoming talks with the five permanent members of the U.N. Security Council and Germany to show it is serious about addressing concerns over its nuclear program, Washington Post reported.
"These talks are an opportunity for Iran to address seriously the international community's concerns about its nuclear program," Clinton said.
"We believe there is still time for diplomacy, but it is urgent that the Iranians come to the table to establish an environment conducive to achieving concrete results through a sustained process."
EU foreign policy Chief Catherine Ashton also expressed hope for creating positive and constructive atmosphere for tangible progress in the new round of Iran-5+1 nuclear talks.
New round of Iran-5+1 nuclear talks will be held in Istanbul on April 14.
Hillary Clinton also emphasized on the urgency of resolving security concerns about Syria and North Korea as she opened talks with Group of Eight (G-8) foreign ministers.
Clinton's meeting with the foreign ministers will end Thursday with the release of a joint statement.
Sources: BBC Persian, Mehr News Agency