President Ahmadinejad appeared before the parliamentary to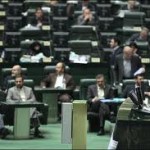 answer to MPs inquiries but he couldn't convince them.
At least, after lots of struggles over the motion of questioning Ahmadinejad, President Mahmoud Ahmadinejad appeared in the parliament to respond to the ten questions posed by 79 members of the parliament, on Wednesday.
IRNA reported that Ali Motahari, one of the MPs of Tehran, read out the questions and then President Ahmadinejad had an hour to offer his answers.
Meanwhile, some MPs who signed the motion of 'Questioning Ahmadinejad' said they were not convinced with the answers and others  described the president's remarks as "insulting", according to Mehr News Agency.
MPs said they will issue a statement in response to the president's remarks.
On February 7, Majlis announced that 79 Iranian lawmakers have motioned to summon President Ahmadinejad for inquires on a number of issues concerning his administration's domestic policies, as well as his recent appointment and removal of key officials.
According to the Article 88 of the Iranian Constitution, the president must appear before Majlis within a month of being summoned, unless lawmakers decide to withdraw the motion.