Iran's courageous naval forces rescued Iranian oil tanker 'Hatef' from pirates on Saturday, IRNA reported.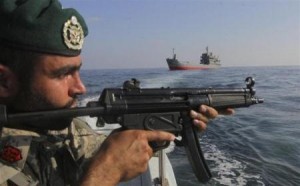 The Iranian oil tanker 'Hatef' moving towards Suez Canal from Khark Island was attacked by a group of pirates twice in Gulf of Aden, 80 miles away from Ras Fartak, but courageous and vigilant Iranian naval commandos left the pirate attack barren.
According to ISNA, pirates attacked the Iranian oil tanker with four ultra-speed boats at 23:30 pm and 2:00 am, but when faced with immediate reaction from Iranian naval commandos they had to flee the scene of conflict. The oil tanker then continued towards its destination.
Following a series of attacks by pirates on Iranian cargo ships or oil tankers, the Iranian Navy has dispatched its war ships to international waters to protect Iranian vessels.
According to UN Security Council resolutions, different countries can send their warships to the Gulf of Aden and coastal waters of Somalia against the pirates and even with prior notice to Somali government enter the territorial waters of that country in pursuit of Somali sea pirates.
The Gulf of Aden – which links the Indian Ocean with the Suez Canal and the Mediterranean Sea – is an important energy corridor, particularly because Persian Gulf oil is shipped to the West through the Suez Canal.
Sources:  Mehr News Agency, Trend