Dr. Simin Daneshvar, the creator of Suvashun, passed away in Tehran on March 8, 2012.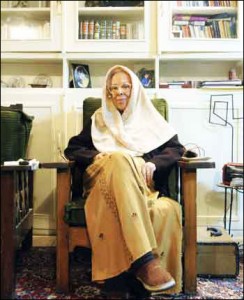 After a period of illness, Daneshvar – an Ianian academic, novelist, fiction writer and translator – died at the age of 90, ISNA reported.
Simin Daneshvar was born in 1921 in Shiraz.  She is the first Iranian woman who professionally wrote the story in the Persian language.
In 1948, Danshevar published Atash-e Khamoosh (Extinguished Fire) which was the first collection of short stories published by a woman in Iran. In 1949, she graduated from Tehran University with a doctorate in Persian literature. In 1950, she married Jalal Al-e Ahmad, a prominent Iranian writer.
Two years later, Daneshvar received a Fulbright scholarship and left for Stanford University for two years. During this time, she published two short stories in English.
Upon her return to Iran, she joined Tehran University as an associate professor of art history, a post she held for twenty years.
Daneshvar published her second collection of short stories, Shahri Chon Behesht (A City as Paradise), in 1961.  In 1969, her novel, Suvashun, a masterpiece  which has been translated to 17 languages, was published. A few months before the publication of Suvashun, Daneshvar's husband died.
She continued teaching at Tehran University until 1979, when she retired.
Daneshvar, a member and first president of the Iranian Writers Association, had a number of firsts to her credit. In 1948, her collection of Persian short stories was the first by an Iranian woman to be published. The first novel by an Iranian woman was her Suvashun, which is among the bestselling works of fiction. Daneshvar's Playhouse, a collection of five stories and two autobiographical pieces, is the first volume of translated stories by an Iranian woman author.
Simin Daneshvar is always mentioned as the creator of unique works of fiction in Iran.
Sources: FNA, Mehr News Agency, Hamshahri Online, Iran Chamber