Iranian patrol boats and planes have tracked the American aircraft carrier USS Abraham Lincoln, along with two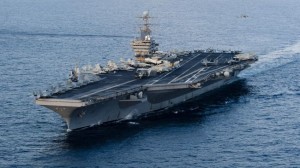 American warships, as it passed through the strategic Strait of Hormuz under the close aerial and naval surveillance of Iranian forces on Tuesday.
Rear Admiral Troy Shoemaker, commander of the Abraham Lincoln Carrier Strike Force mentioned that Iran's navy never approached the battle group closer than half a mile, making a point to stay in the Iranian waters. An Iranian drone, a patrol plane and surveillance helicopter zooming Iran airspace near the strategic strait.
"We would do the same things off the coast of the United States… It's more than reasonable. We're operating in their backyard" he added.
This is the second time the US warship crosses the strait in recent weeks. The Abraham Lincoln, which carries dozens of F/A-18 strike fighters and other planes, entered the Gulf in January. Washington says that on Thursday the warship is going to aid the NATO mission in Afghanistan. Navy brass in the Gulf say another American carrier is due back through the strait soon, but gave no firm timetables.
Meanwhile the heavy military presence by the US and its allies has turned the Gulf into a weapons depot, Iran's Defense Minister Ahmad Vahidi said on Tuesday.
Tehran will not give up its interest in the Gulf and warns against any efforts to undermine its regional role, added the Minister, Press TV reported.
On January 23, the EU banned all oil imports from Iran starting with July. Iran might cut crude supplies to Europe even before this deadline, targeting the staggering economies in the Old World.
Last month, Paris and London commissioned their battle ships to join the American navy in the Persian waters too.
The Strait of Hormuz has become the focal point of a recent escalation of tensions between Washington and Tehran. Iran's military has made no attempts to disrupt oil tanker traffic.
Sources:  Russia Today, AP