In a Sunday, Iran's Foreign Ministry has summoned the Azeri envoy to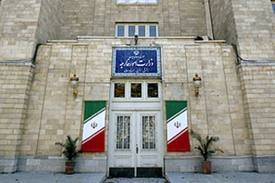 complaint severely against the presence and unlimited activity of Mossad intelligence agents in Azerbaijan which is an refuge to the Mossad-trained assassins of Iranian nuclear scientists, who are involved in espionage activities against the Islamic Republic.
Iran also showed objection to Azerbaijan's inappropriate behavior with Iranian missions, anti-Iranian propaganda in media, seizure of Iranian cargo trucks traveling to Baku and called for Azerbaijan to stop such unfriendly measures.
The Azerbaijani ambassador expressed regret over the events and said Tehran's message would be conveyed to Baku as soon as possible and that a response would be relayed to the Iranian Foreign Ministry.
The London Times reported on Saturday that Israel is using Azerbaijan, a small Eurasian country which shares a border with Iran, as a base to spy on the Tehran government.
According to Shimon, the border with Iran, just hours south of Azerbaijan's capital of Baku is prime territory to gather intelligence about Tehran's activities. "There is a great deal of information there from people who regularly and freely travel across the borders. It is unregulated — almost. Except for the Iranians who are watching us watch them," he said.
Azerbaijan is a major energy producer, and exports oil to Israel and imports weapons and military hardware in return from the Jewish entity.
Separatist groups and members of the terrorist Mujahedin-e Khalq Organization are also freely operating within Azerbaijan's borders.
Israel has not responded to The Times report as a hub for spy operations, Jpost noted.
Source: Press TV, ISNA