Following Riyadh's claim to compensate for the loss of Iranian oil in the global market, EU foreign ministers agreed an oil embargo against Iran and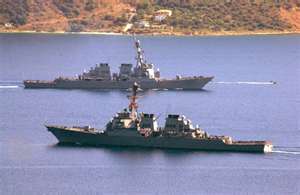 a freeze on the assets of its central bank.
Then, Iranian officials warned Saudi Arabia not to drag into the dangerous position made by the United States policies against Tehran. And, Spokesman for Iran's Majlis Committee on National Security and Foreign Policy, Kazem Jalali, said, Saudi Arabia should not fall for the Western scenarios and play against Iran.
But after two weeks, two Iranian naval ships have docked in the Saudi port of Jeddah and Iranian Foreign Ministry Spokesperson Ramin Mehmanparast welcomed Saudi Arabia's cooperation proposal with Iranian Navy's fleet of warships.
The Iranian Navy's fleet of warships is comprised of Khark warship and Shahid Naqdi destroyer.
Iranian Navy Commander Rear Admiral Habibollah Sayyari declared that the navy ships' 70-80-day mission is aimed at demonstrating Iran's power on the open seas, and defusing the plot hatched by the enemies to spread Iranophobia
Apparently, Saudi Arabia has changed its position towards Iran, and decided to cooperate with regional countries to maintain the security and stability of the region.
Sources: RT, Tehran times, IRNA