Iran said Tuesday that the IAEA delegation would visit the country late February.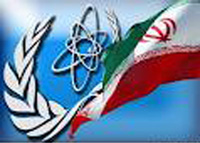 Returning from a three-day talk in Tehran on February 1, a senior team from the International Atomic Energy Agency (IAEA) released a statement saying a new meeting would take place on Feb 21-22 in the Iranian capital.
"The Agency is committed to intensifying dialogue. It remains essential to make progress on substantive issues," IAEA Director General Yukiya Amano said.
At the end of  Iran, IAEA meeting on January 31, both sides considered the talks as "constructive".
Mohammad Karamirad, a member of the influential parliamentary committee on national security and foreign policy, said that the visit by the IAEA team showed Iran has had "comprehensive and honest cooperation with the agency."
"The visit can be beginning of new round of talks with the West, and it proves the peacefulness of Iran's nuclear activities," he added.
Iranian Foreign Ministry Spokesman Ramin Mehman-parast also said "cooperation between Iran and the IAEA can lead to better understanding for the agency from Iran's peaceful nuclear activities. Good talks were held and both sides agreed to continue dialogues," he added.
Sources: Tehran times, Mehr News Agency, OANA, IAEA