Iran will target any country which hosts for military action against it, Gen. Hossein Salami, deputy commander of the elite Revolutionary Guard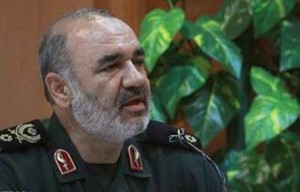 announced. However, he stressed that Iran will not initiate any war.
His comments appeared to be a warning to Iran's neighbors not to let their territory or airspace be used as a base for an attack.
The Gulf States that host U.S. military facilities are Qatar, Bahrain and Kuwait.
"Any spot used by the enemy for hostile operations against Iran will be subjected to retaliatory aggression by our armed forces," Hossein Salami told the semi-official Fars news agency on Sunday.
On November 10, Ayatollah Khamenei warned enemies about Iran's tough response to any aggression or even threat, stressing that "anyone who harbors any thought of invading the Islamic Republic of Iran – or even if the thought crosses their mind – should be prepared to receive strong blows and the steel fists of the military, the Islamic Revolution Guards Corps (IRGC), and the Basij (volunteer) force, backed by the entire Iranian nation."
Qatar and Turkey- two of Iran's neighbors – urged the West on Sunday to make greater efforts to negotiate a solution to the nuclear row.
"A military option will create a disaster in our region. So before that disaster, everybody must be serious in negotiations. We hope soon both sides will meet again but this time there will be a complete result," Turkish Foreign Minister Ahmet Davutoglu said during a speech at the Munich Security Conference, a gathering of security officials and diplomats.
Moreover, Qatari Deputy Foreign Minister Khalid Mohamed al-Attiyah said an attack "is not a solution and tightening the embargo on Iran will make the scenario worse."
Sources: FNA, Press TV, Tehran Times, AP, Reuters, RT