Iran will certainly stop exporting crude oil to some of European countries in response to the recent oil embargo on the country, Iranian Oil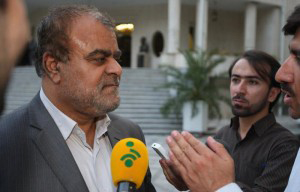 Minister, Rostam Qasemi, said.
"We will not abandon our just nuclear course, even if we cannot sell one drop of oil," said Rostam Qasemi.
"Our oil exports will certainly be cut to some European countries. We will decide about other European countries later," Qasemi added.
Iranian officials have said sanctions have had no impact on it, while the country's supreme leader Ayatollah Ali Khamenei threatened on Friday to retaliate against the West for sanctions.
A decision by Iran to stop oil exports to some EU countries came after the 27-member bloc agreed to ban oil imports from Iran over its nuclear program. The decision will go into effect on July 1.
The United States and its allies say Iran is trying to develop weapons under cover of a civilian nuclear program. But energy-rich Iran denies this, saying it needs nuclear technology to generate electricity.
Sources: Mehr, Reuters, IRNA, Fars