The European Union decision to impose oil sanctions on Iran is aimed at affecting the upcoming parliamentary elections, said Tehran's interim Friday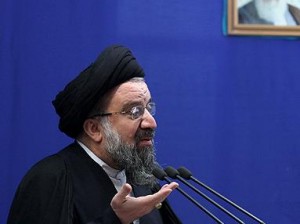 prayers leader, Ayatollah Seyyed Ahmad Khatami.
Khatami affirmed that the EU decision to implement the new sanctions after a six-month period clearly shows the bloc's efforts to influence Iran's 9th parliamentary elections slated for March 2.
European countries have in fact imposed sanctions on themselves because they are in grip of financial difficulties and oil embargo against Iran will aggravate their problems, he said.
ُSources: Press TV, IRNA, Tehran Times