Internationally-acclaimed Iranian filmmaker Asghar Farhadi's 'A Separation' has been nominated in two categories at the 2012 Academy Awards.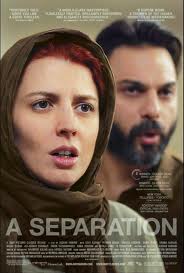 A few hours ago, Tom Sherak, Academy president, and Jennifer Lawrence, American actress, unveiled the nominees of 24 categories of the 84th Academy Awards.
As it was expected, the 2011 Golden Globe Award winning movie  'A Separation' was nominated for the Best Foreign Language Film and the Best Original Screenplay of the 84th Academy Awards.
According to Press TV, "the movie was among the very first films nominated for the award and based on the articles published about the movie, it seems that Farhadi's film will win the award," said head of Iran's Farabi Cinema Foundation Amir Esfandiary.
Sources: Press TV, Oscars, Cinema Negar