The threat of more sanctions as well as the possibility of military action against Iran are linked to concerns about its uranium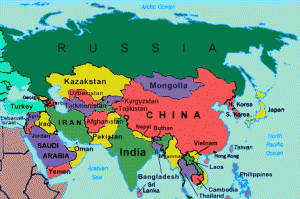 enrichment program. The U.S. and its Western allies suspect it is aimed at developing nuclear weapons. Iran insists its efforts are designed for civilian power generation and research.
Foreign Minister Sergey Lavrov said Russia is "seriously worried" about the prospect of a military action against Iran and is doing all it can to prevent it.
"The consequences will be extremely grave," he said. "It's not going to be an easy walk. It will trigger a chain reaction and I don't know where it will stop."
Meanwhile, China, the world's biggest energy consumer, remains unwilling to back an oil embargo against Iran.
China "completely rejects" Iran developing nuclear weapons and supports the so-called five-plus- one talks to find a solution to the issue, Chinese Premier Wen Jiabao said at a press conference in Doha, Qatar.
Also, Japan's finance minister expressed concern about the effectiveness of U.S. sanctions on Iran and their potential impact on Japanese banks
Japan, the second-biggest importer of Iranian crude after China, will probably be forced to cut purchases from the country as banks may stop doing business with the Central Bank of Iran to avoid penalties from the US.
But, according to the head of Japan's oil industry association, Japanese refiners haven't started talks with the government on cutting imports of Iranian crude after the U.S. imposed sanctions on the country.
Sources: AP, Bloomberg, Reuters, Russia Today