Since  Asghar Farhadi's film- Nader and Simin, A Separation was released, he has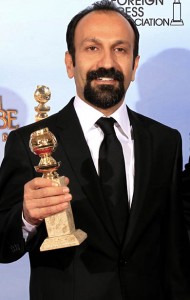 been continuously criticized for different reasons.
Despite receiving domestic and international awards, Iranian director, Asghar Farhadi has dealt with several criticisms since the release of Nader and Simin, A Separation.  
The film was initially invaded by some media for inducing disappointment to the society, encouraging Iranian people to immigrate, etc. But after Nader and Simin, A Separation has been selected for Oscar; the Culture Minister stated that "this Iranian film has all the requirements for participation in foreign language film of Oscar" but he also added that "choosing or not choosing this film for Oscar award is a sign of US policy towards Iran."
Now, after a long wait, the acclaimed Nader and Simin, A Separation directed by Farhadi won the award for best foreign language film at the 69th annual Golden Globe.
In this festival, Farhadi's movie beat The Flowers of War from China, Belgian movie The Kid with Bike (Le Gamin au Velo), The Skin I Live In (La piel que habito) by Spanish veteran Pedro Almodovar, and In the Land of Blood and Honey from Bosnia-Herzegovina by Hollywood star Angelina Jolie.
After Oscar, Golden Globe is the most important award of American cinema. So far, no films have won Oscar, and in 1999, Majid Majdi's Children of Heaven was only nominated for Oscar's best foreign movie.
After the publication of news about Farhadi's award, his photos of shaking hands with Angelina Jolie, actress arouse some disputes in Iranian hardliner media, specially Fars News Agency.
According to a hardliner news agency , "Farhadi is the representative of Iran's cinema in Oscar and his award is the cause of pride for our country, but there are much more important things for the Iranians than award or medal." It criticized Farhadi for not observing diplomatic convention of the Islamic Republic of Iran.
Sources: ISNA, Press TV, Asr Iran, Fars News Agency