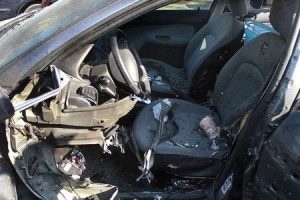 An Iranian university professor and deputy director at Natanz enrichment facility was killed in a terrorist bomb blast in a Northern Tehran neighborhood on Wednesday morning, Fars reported.
Ahmadi-Roshan, 32, was reportedly a chemistry expert and in charge of a commercial affairs at the nuclear site.
Two assailants on a motorcycle attached magnetic bombs on Wednesday to the car of an Iranian university professor working at a key nuclear facility, killing him and his driver and one was wounded, a semiofficial news agency reported.
The incident occurred a day before the second martyrdom anniversary of Iranian elementary-particle physicist Massoud Ali-Mohammadi, who was also assassinated in a bomb attack on January 12, 2010. Ali-Mohammadi had just left his home when a bomb hidden in a motorcycle was detonated.
Additionally, the current head of Iran's atomic organization, Fereydoun Abbasi, escaped another such attempt in November 2010, getting out of his car with his wife just before the attached bomb exploded.
One of US options to halt Iran nuclear program is to conduct dirty operation including assassination of nuclear scientists.
If it is proved that terrorist organizations like Mujahedin-e Khalq Organization (MKO) state to assume responsibility for this terror or is affirmed documentarily that a state or other organization involved in the terrorist action, Iran would find enough reasons for military action legally.
Iran considered MKO as the main perpetrators of the recent terrorist attack in cooperating with foreign intelligence services, since MKO members is composed of escaped Iranian people.