Tasnim – Iranian Foreign Minister Mohammad Javad Zarif and UN Special Envoy for Yemen Ismail Ould Cheikh Ahmed called for steps to bring the human tragedy in the Arabian Peninsula country to an end.
In a meeting in Tehran on Saturday, Zarif and the UN envoy discussed the latest developments in Yemen.
The two highlighted the need for an end to the ongoing human catastrophe in Yemen and called for efforts to find comprehensive political solutions for the country's crisis.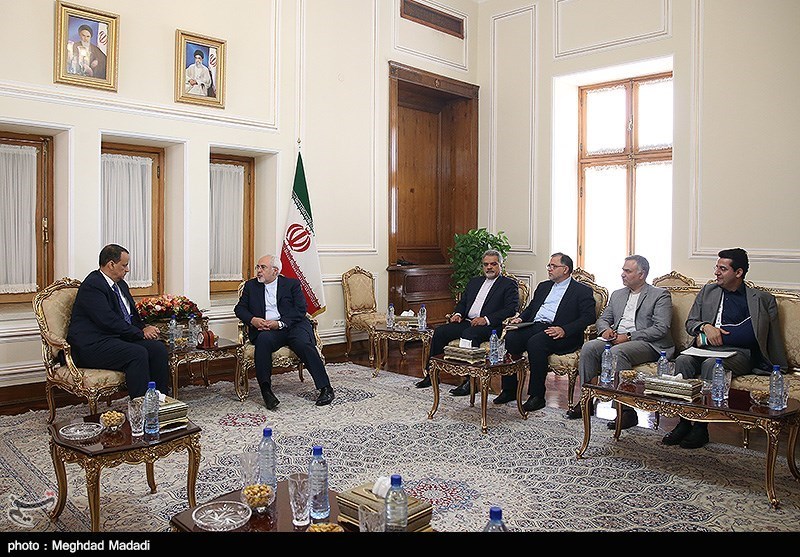 Cheikh Ahmed, who arrived in Tehran earlier on Saturday, also held talks with Iranian Deputy Foreign Minister for Arab and African Affairs Hossein Jaberi Ansari, in which the two urged steps to relaunch political peace talks in the Arab country and provide humanitarian aid for the people of Yemen who are facing famine and are buckling under a blockade.
Yemen has been the target of massive airstrikes by a Saudi-led coalition since March 2015. Leading a number of its vassal states, Saudi Arabia launched the military aggression on Yemen to eliminate the Yemeni Houthi Ansarullah movement and reinstall a Riyadh-friendly former president. The war, however, has failed to achieve either of the goals, morphing into a protracted conflict and causing a humanitarian crisis in Yemen.
UN-brokered talks between Yemen's warring sides have also failed to end the conflict so far.
Iran has repeatedly called for a swift end to the brutal Saudi-led military campaign.
The war has so far killed over 12,000 Yemenis.
The US and the UK have been providing the bulk of the weapons used by the Saudi-led forces against Yemen. The US is also providing other assistance, including the provision of intelligence, to the invading forces.
The aggression has been accompanied by a Saudi-led naval and aerial blockade on Yemen.
It has also taken a heavy toll on Yemen's infrastructure and led to a cholera epidemic in the country. Almost 2,000 people have died since the outbreak of the cholera epidemic in April, according to the latest figures provided by the World Health Organization (WHO).
An estimated 70 percent of Yemen's 28 million population is said to be in desperate need of humanitarian aid.
Earlier this week, Yemen's blood bank appealed to the international community to support the center as its "medical supplies have nearly run out."