In a rare and dramatic move, PM decides not to hold 2nd part of meeting after confidential information leaked detailing disagreements between Mossad, Shin Bet, Army Intelligence over Iran nuclear issue.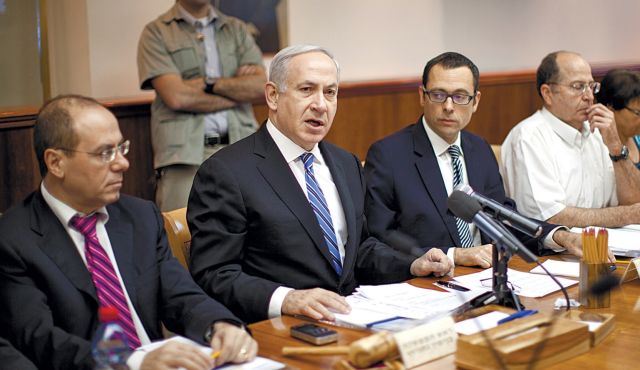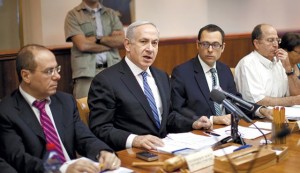 Prime Minister Benjamin Netanyahu unexpectedly canceled a security cabinet meeting on Wednesday morning, telling ministers that information from the first part of the meeting, held the day before, was leaked.
"A short while after the meeting yesterday something serious happened," Netanyahu said. "A leak from the cabinet discussions… someone severely damaged the trust that Israel's citizens have in this forum." Netanyahu added that the person responsible for the leak "broke the basic rules of holding discussions in the security cabinet. He also hurt the good name of those who attended the meeting and did not leak information."
On Tuesday, the cabinet convened for an eight-hour meeting, during which ministers received an annual briefing by leaders Israel's intelligence community. The meeting was expected to focus on Iran's nuclear program, the civil war in Syria and the Muslim Brotherhood's rise to power in Egypt, and speakers included director of Military Intelligence Maj. Gen. Aviv Kochavi, Mossad chief Tamir Pardo and Shin Bet security service chief Yoram Cohen.
Netanyahu said that Israel's security "depends on the ability to hold classified and wide-ranging discussions in the political-security cabinet. That is where all of the facts, opinions and ramifications are presented." Netanyahu added that "I have nothing to say against the media, it's doing its job. I do have something to say about whoever broke the very basic trust required for [discussing] Israel's security matters, and who has damaged the capability of holding classified discussions. I have a responsibility to the citizens of Israel for the country's security and therefore I am cutting this meeting short."
Energy and Water Resources Minister Uzi Landau called on Netanyahu to launch an investigation into the matter and identify the person responsible for the leak.
All participants of the meeting, including ministers and security and intelligence officials must undergo a polygraph test," Landau said. "Until the person responsible for the leak is found, this forum cannot be convened."
A senior IDF official said that "we appreciate the prime minister's hard line concerning intelligence leaks from the cabinet meetings."
Netanyahu's statement concerning a leak were a reference to a report published Tuesday on the Israeli Ynet news site, in which one of the participants of the meeting was quoted. The report did not cite new information from the cabinet meeting, but rather described the participant's own assessments and judgments.
A senior IDF official responded, "We appreciate the Prime Minister's strict stance on intelligence leaks from cabinet meetings."
The Iran Project is not responsible for the content of quoted articles.